The first time I discovered the original Ghostbusters, I was getting ready to graduate from high school back in 2009. Although I was never the biggest fan there is, I also kinda liked going back into this universe from time to time, however small it is. For adults who grew up in the 80s and kids who discovered the franchise more recently, we like it for one easy reason: it's just so cool! It is a Halloween classic for the iconic great costumes, Ecto-1 (the white car with all the lights flashing on the roof) and equipment that brings a jealous smile on your friends' faces.
Interestingly enough with this one, contrary to other massive 80s franchises like Indiana Jones or Rocky, it seems that only the first film, the original Ghostbusters, remains a watchable threat, as the two other sequels available, Ghostbusters II and 2016's Ghostbusters reboot are petty miserable. The plan to make a third Ghostbusters movie was always subject to gossip, but it never got made for multiple administrative and schedule reasons. The original actors even got into a few disputes before (sadly) Harold Ramis passed away, the actor who played Egon Spengler. The one who made it official is writer and director Jason Reitman (Juno, Up in the Air and Thank You For Smoking) is the son of the original Ghostbusters director Ivan Reitman. In order to honor his father's legacy, he decided to make this movie himself when the time was right, along with his father as a producer.
So, finally, we have a follow-up to the Ghostbusters movies with Ghostbusters: Afterlife. In a few words, if your wish is to have sweet sweet Stay Puft Marshmallow Man nostalgic fun and other giggling visual references that point out to the original, we will serve you that huge cookie in no time. Although, if the hipster viewers among you were looking for something more original, you might be slightly disappointed.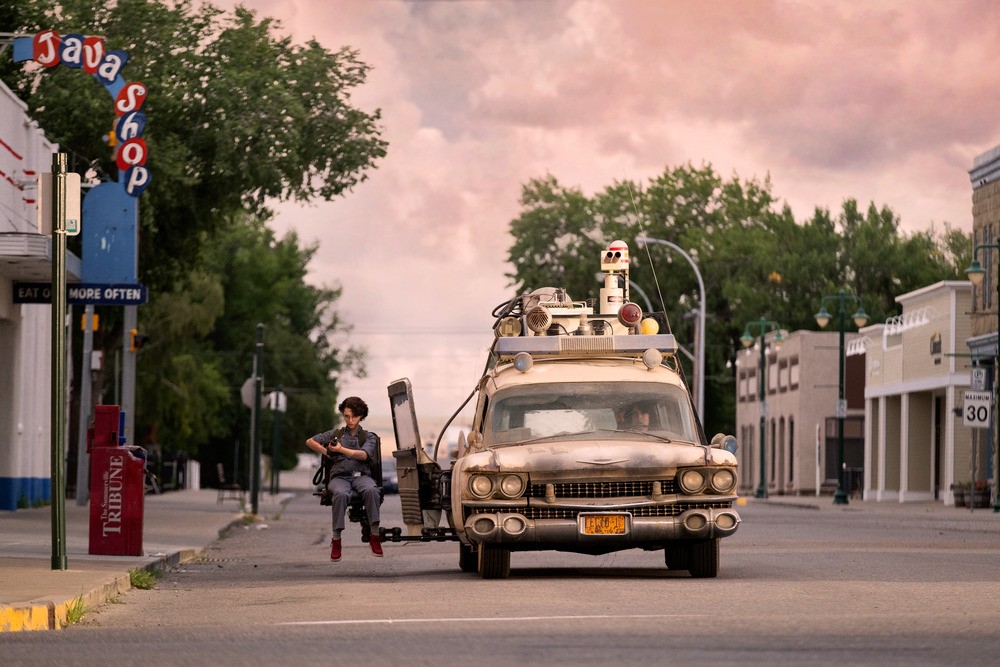 It's been more than 40 years since Gozer's disciples invaded New York City in the original 1984 movie. Society seems calm and pretty normal now in 2021. We begin the film without any signs of the Ghostbusters, but rather with a tragic death scene on a farm, in a small town of Oklahoma. As the identity of the victim is not revealed, we have a pretty good idea who it is. After which, we are invited into the day-to-day routine of a small family of three, who are struggling with their finances. Callie (Carrie Coon) is a single mother who lives with her two children, Trevor (Finn Wolfhard, Stranger Things) and Pheobe (Mckenna Grace, brilliant performance). The first one is a little rebel kid, and the second is a little geek who wants to be a scientist. Callie is informed that her father just died and that his entire farm in Oklahoma now belongs to her. Having never really known her father, she settles down to the farm with her kids in order to start a new life and learn a little more about the family. Trying to settle in during summer school with a pretty funny and clumsy science teacher (Paul Rudd), Pheobe observes paranormal events around her, as she begins to understand that her dead grandfather was, somehow, connected to the Ghostbusters.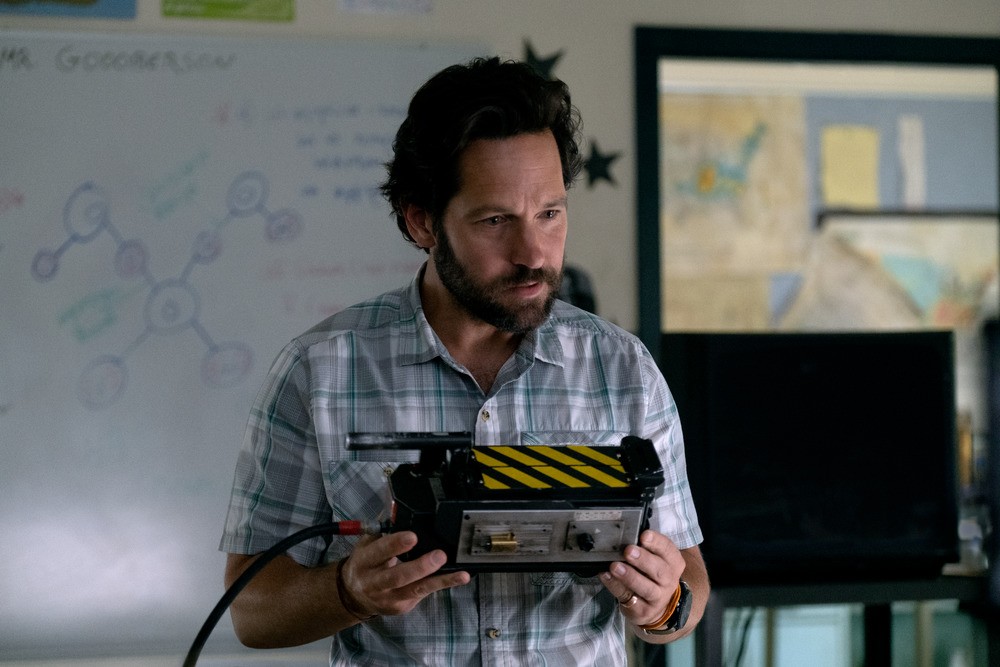 Considering the new cast of kids, we get an instant Stranger Things vibe, which suggests a lighter and funnier tone to the Ghostbusters franchise. I'll settle this debate right away, as I know some of my colleagues might disagree with me: I do not consider this a franchise of horror movies, (unlike Eric in his op-ed), I would categorize it under something closer to black comedy. Although, in the case of this third chapter, we drop the 'black' entirely and we get a 'teenagers movie' vibe where nothing won't scare you or repulse you too much. You might have one or two jump scares here and there, but I would say it is a fun film for the whole family. I did expect something a little more mature, but the chemistry between the kids is pretty fun, I won't complain.
Honestly, the first two acts of Ghostbusters: Afterlife are quite good! The humor works very well alongside the light horrific elements. Young Mckenna Grace is such a revelation wearing the glasses of Phoebe, and I'll never get sick of her well-placed dad jokes in the script. A little awkward socially, but very bright for her age, she plays detective like young Sherlock Holmes, even challenging her own science teacher about the results of his seismic monitor. Along with her new friend from school (love interest? Hard to tell), a kid who calls himself 'Podcast' (Logan Kim) because he's always recording everything that is happening to him, they will find old Ghostbuster technology and try to make sense of it. The pair is a great delight, even for a guy my age! The same can't be said of Finn Wolfhard, as his character is completely sidelined, along with the adults in this story.
Then…we get to the third and final act of the film. Yes, visually stunning in terms of special effects, but we've been this way before…
I'm all for nostalgia and a conclusive payoff for fans who want to see elements taken from the original movie. We get a lot of this these days; 'crowd pleasers' that rely too much on previous installments to make their existence more valuable. This movie relies A LOT on the original film (maybe too much) during the last 25 minutes, so we have the impression that we are watching an exact duplicate of the first film. Personally, as I still love the very first Ghostbusters, I didn't mind it that much, but it still shows a serious lack of imagination from Jason Reitman, who is a very gifted filmmaker.
In conclusion, I still think Jason Reitman succeeded in giving us a good dose of family fun, both for the fans and also for the new generation who might not be as familiar with the original movie. Leaving the last showdown aside, the film shines the brightest when we spend time with Phoebe and her school friend Podcast to uncover the paranormal mysteries around her grandfather's farm.
FINAL GRADE: 7.5/10