It's a new week, and once again new comics will grace us with their stories of hectic heroism, horrendous horror, and everything in between. There are BIG event books this week at the two big companies (Insider Secret: this is what retailers can Marvel & DC, shh don't tell anyone!). The Independent comics have some extremely thought-provoking narratives. I chose these books for their importance to their respective universes, their ability to incite emotions, and the fact that they're downright entertaining! Buckle up comic fans, here we go!
DC
Batman Vs Robin #1
Written by Mark Waid
Art by Mahmud Asrar
Let us start with a classic father versus son story. One that could only be told through the ACTUAL father and son team of Batman and Robin (Damian Wayne). In Batman vs Robin #1 written by Mark Waid and drawn by Mahmud Asrar, we are thrown directly into the action with a HUGE reveal in the first few pages. I promise you won't know what hit you!
This story builds on the pages of Robin by Joshua Williamson and Batman by a variety of different writers, and it has all come to a very thrilling, and confusing, climax. We will see Robin try to TAKE the mantle of Batman from his father, and you will want to find out why! Waid and Asrar tell a beautiful yet heartbreaking tale of a boy wanting nothing more than to be what he feels he was always meant to be.
Marvel
Midnight Sons #1
Written by Ethan Sacks
Art by Luigi Zakaria
Spooky season has arrived and what better way to jump into the frightening, than with a horrific team-up! Midnight Suns #1 is written by Ethan Sacks with art by Luigi Zakaria. This book is absolutely a breath of fresh air. The story itself is rather formulaic, but what keeps you reading is the interactions of your favorite Marvel magic users and, of course, Wolverine! This Is a group of heroes that you KNOW won't work well with each other. But, of course, they have to or the world will end in misery and despair (a pretty average day for Marvel).
Sacks can bring these characters together in a way that I have never seen before, and in doing so, engages them in such an interesting way through their conversations. We are on this journey with our heroes. Will they solve this mystery before the world ends, or will they destroy each other first?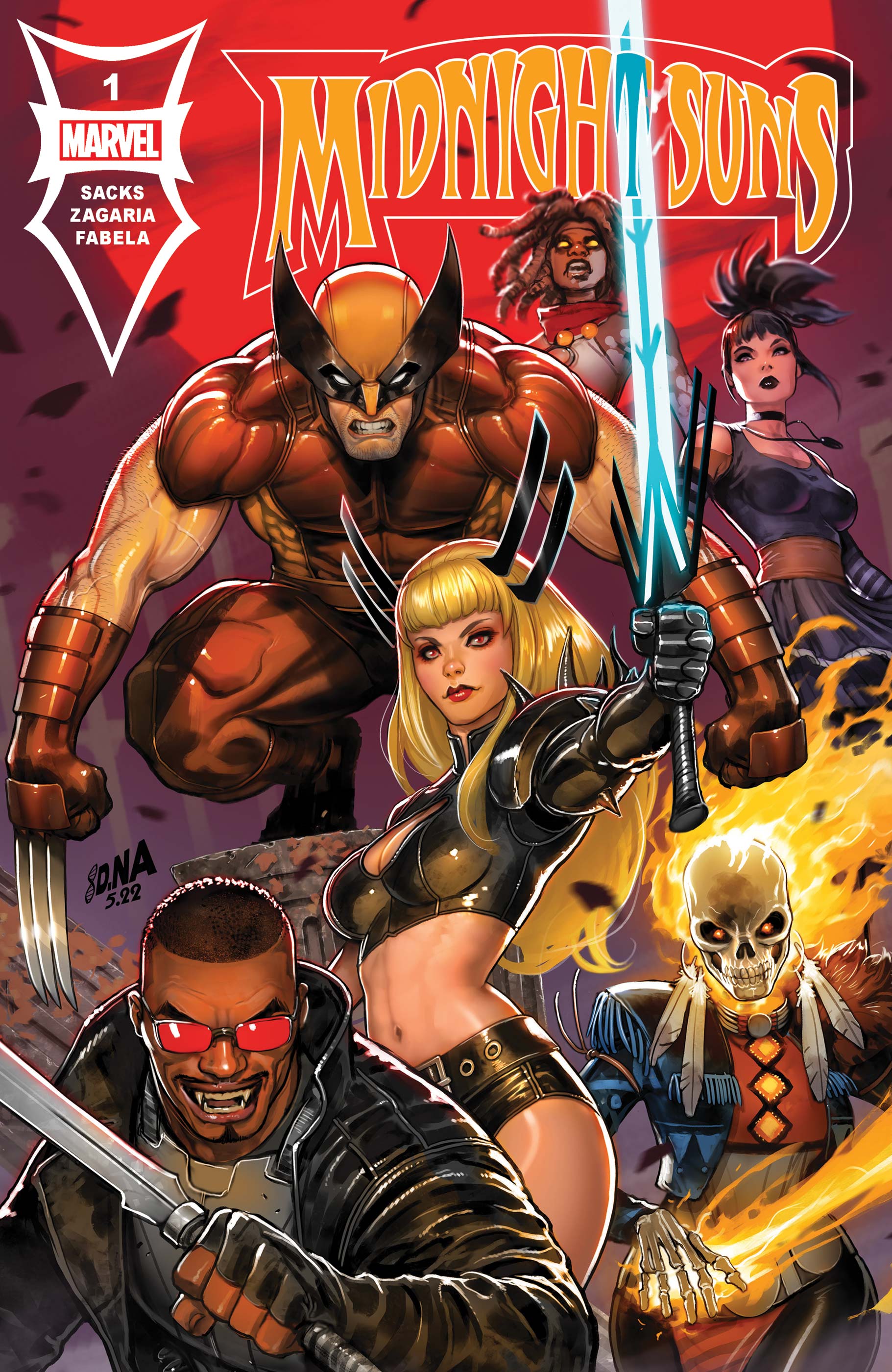 Image Comics
Ten Thousand Black Feathers #1
Written by Jeff Lemire
Art by Dave Stewart and Andrea Sorrentino
Now for this next book, you will certainly need to keep the lights on. Ten Thousand Black Feathers #1 written by Jeff Lemire and shared art duties by Dave Stewart and Andrea Sorrentino is probably one of the most frightening, and yet satisfying, comics I've read in a long time. Lemire and Sorrentino have started a shared horror universe with their first Original Graphic Novel (OGN) Passageway, also published by Frightening.

Part of the Bone Orchard Mythos, Ten Thousand Black Feathers will show readers just what it means to blur the line between fantasy and reality. Two best friends and avid gamers find themselves trying to answer this very question. Lemire and Sorrentino are currently one of my favorite creative teams, and their legend just becomes even grander with this new installment of this horror universe. I strongly urge you to pick this, AND Passageways, up as soon as you can. Oh, and make sure to buy a night light!
Graphic Novel
Everything Is Ok
Written and drawn by Debbie Tung
Horror isn't always a fantasy, sometimes it ventures into your reality in many different and destructive ways. Everything Is Ok written and drawn by Debbie Tung is an autobiographical memoir about her own story dealing with the horrors of depression and trauma.

Although this may sound sad, the story Tung tells is truly uplifting and inspiring. She shows, through her life and art, how having a support system and taking care of your mental health are beyond important in today's society. We are given a glimpse into someone's more private horrors, and yet we are shown how beautiful and not alone we all truly are when we are willing to seek help and do the work. This book is not only something I HIGHLY recommend for anyone dealing with their own horrors, but also for everyone who has known someone or suspects someone they know of needing help in some way.