By Sean Gallagher
The Last of Us aired earlier this week thanks to the Superbowl, which means we get two extra days to process the fifth episode of the show. Titled Endure and Survive, this was an episode full of touching optimism and bleak horrors.
The episode opens up with a flashback set ten days before last week's episode, with Fedra being violently overthrown by the revolutionaries of Kansas City. Amidst the chaos, we hone in on Sam and Henry, the duo we met in the final moments of last week's episode. The two are brothers and are on the run from the revolutionaries and we get to watch them navigate the city in the opening minutes of the show leading into the conclusion of episode four. A change from the source material is that Sam is deaf, which means that Henry is far more of a guardian to Sam than he already was in the game.
Henry knows a way out of Kansas City but doesn't have the resources or skills to do it. So he strikes a deal with Joel: protection for guidance. They each benefit from the deal and Joel reluctantly agrees to usher them through the underground tunnels, despite the potential risk of the infected, which have all been herded underground and apparently exterminated.
In the tunnels, Ellie in particular bonds with Sam. She's been forced into situations where she can't simply be a kid, but having Sam around allowed her to bond with someone closer to her age. At an abandoned settlement underground, the duo have a blast playing soccer and rummaging through comics, all of which just makes the end of the episode that much more tragic. It's a great setup for tragedy, showing the usually tough-as-nails Ellie having fun and smiling, which makes us buy into Sam and Henry being characters we want to care about.
We also learn that Henry was a rat for Fedra and in order to provide Sam with his leukemia medication, ratted on the revolution, specifically on Kathleen's brother, Michael. I've always appreciated how The Last of Us made its character's shades of grey and we now have ample motivation and understanding for her actions. She's consumed by hate and revenge, so much so that other tasks which should take priority become secondary.
Contextual spoilers for The Last of Us Part II in this paragraph. I can't help but wonder if Kathleen's motivations and character arc were written to foreshadow events in season two, specifically with regard to Abby and Ellie. Kathleen's mission of hate and revenge heavily echoes the themes found in Part II and I wonder if it acted as a sort of primer.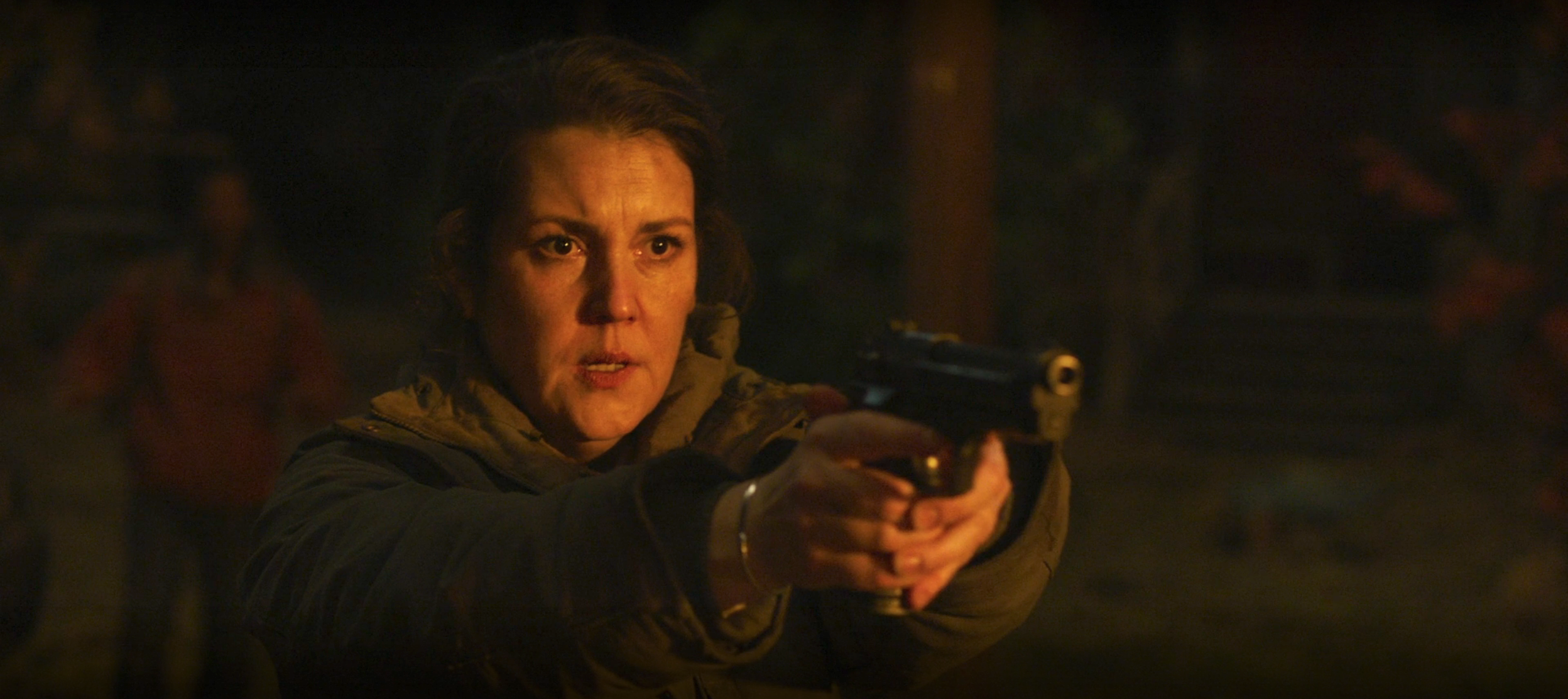 The end of the episode was a one-two combo to the gut then head. After being pinned down by a sniper in a moment lifted more or less from the game, Kathleen and her goons arrived at the group's location with the intent of killing Henry, Sam, Ellie and Joel for all their transgressions. They're spared, perhaps a little too conveniently, by a horde of infected, who burst from the ground the exact moment Henry was to be executed. From within this horde, which already included Runners and Clickers, was our first Bloater. My reaction upon its reveal was akin to Boromir's quip in Fellowship of the Ring, "they have a cave troll". The huge beast is made entirely of hardened fungi, giving it bulletproof skin. The scene as a whole is chaotic, intense and palm sweating and a masterclass in editing and stunt choreography as dozens of infected attack Kathleen's squad, with everyone except Joel being on the ground in the middle of it all.
Joel covers Ellie with sniper fire from a second-floor house and helps clear her way back to Sam and Henry, who are pinned down under a car. Eventually, they escape (after Kathleen is killed by a Clicker) and they make off to a motel. Sam reveals to Ellie that he's been bitten and she tries to cure him with her blood, telling him that her blood is medicine. Her naivete is a bit crushing, as she desperately wants to save this kid's life. He asks her to stay up with him and she promises, only to fall asleep and wake up to learn that Sam has turned. His being deaf is probably what saved Ellie from being attacked in her sleep though and likely the reason why they added this character trait for the show. Sam attacks Ellie and Henry, in a split-second decision, kills Sam to save Ellie, but in his grief, ultimately kills himself. Just like the game, it's a huge gut punch, as Sam and Henry were written to be likeable, not only by the audience but by Ellie and even Joel, who invited the brothers to walk with them to Wyoming. On their graves, Ellie leaves Sam's notepad behind with the words "I'm sorry" written down, an admission of her guilt for falling asleep and leaving Sam alone as his humanity fades. She wasn't there for him when he was alone and scared.
An observation about how the show has depicted violence up until this point. For such a grim and violent setting, the violence always seems somewhat removed from the action. Take this episode, with Henry's suicide not being explicitly shown and the bloater's decapitation of Perry happening in the background and out of focus. As audience members, were well aware of the brutal nature of this world, but the show isn't reveling in its violence, we're not meant to think "that was cool!". So it's withdrawn and almost secondary visually, despite being so important narrativley.
I did like the deaths of Sam and Henry was done slighty better in the game though, which kept the bite a secret, making Sam's transformation and attack on Ellie a surprise. We were in the same boat as Joel and Henry, trying to make heads or tails of what's happening. Before we've even processed that, Henry has killed himself and the scene cuts to black and a time jump happens, leaving us in shock without the time to process things. Maybe for the show they wanted us to be prepared and to have a moment of reprieve, but I think the rapid-fire nature of the original sequence worked just a bit better.
That said, this was still one hell of an episode that showcased that there are many different kinds of horrors in this world and even characters we perceive as "evil" aren't just one note antagonists. The same can be said of our protagonists and otherwise "good guy" archetypes. Everyone seems to fall into that murky middle ground, where our emotions and our love for family and friends drive us to do irrational and sometimes even unforgivable things in the name of that love, the core theme of the show. This was a fantastic episode, full of great character moments and a really impressive set piece. Insert applause here.