By Sean Gallagher
Thanks to The Book of Boba Fett, it feels like it's been quite the wait for the third season of The Mandalorian. Depending on what you've watched, either the last time you saw Pedro Pascal's Din Djarin and Grogu was in the season two finale with Luke Skywalker or from Chapter Five onwards in Boba's show. Now Mando is back and things certainly feel like they've gotten bigger, from its big opener to a thrilling space battle. Let's dive in.
The episode opens with a ceremony, and initiation for a child joining the Children of the Watch. We're not quite sure if this scene is a flashback or not, as there are many Mandalorians present at the ceremony and during Book of Boba Fett, we were told few remained. But Mando swoops in to save the day from a giant dinosaur/crocodile creature. I remember the first-ever episode of Mando featured a creature attack as well and it's a testament to the VFX and art department that this creature looks significantly better than the one in season one's premiere.
The subsequent scenes do feel a little bit like catch-up for those who didn't see Boba Fett, despite the brief recap at the front of the episode. Plot lines do carry over from that show, chiefly the return of Grogu, but Lucasfilm seemingly expected its audience to be up to date on their products, as the only explanation for Grogu's return was a quick exchange with Greef (more on him in a sec), with a greater emphasis being placed on the fact that Din willingly removed his mask. The Armorer recapped the significance of Mando's helmet being removed and we touched base on his impossible task of redemption yet again. I feel Grogu's return should have been at least mentioned in the recap for those who bailed on the decidedly so-so Book of Boba Fett early (or those who never started it).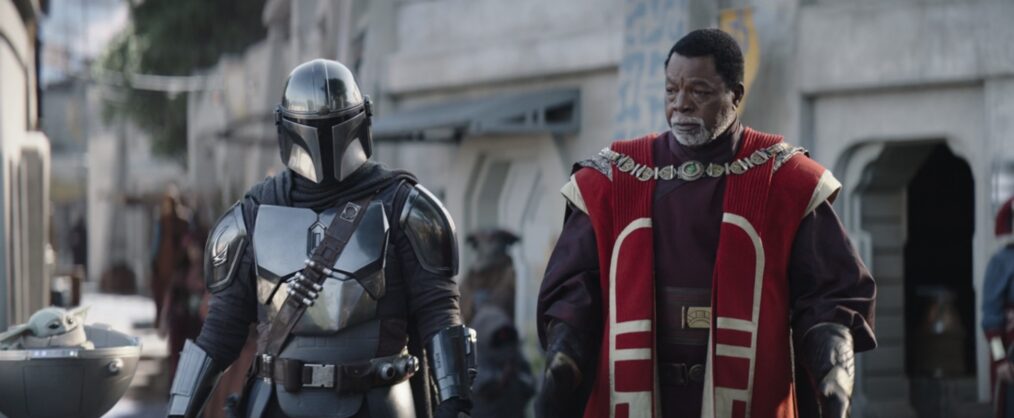 From then, Mando makes his way back to Navarro and meets up with Carl Weather's High Magistrate Karga. The spaceport is now a lush and vibrant city, with schools, trees and prosperity. Bearing in mind Jon Favreau's recent comments that everything we've seen since season one has taken place over a few years (and that Grogu was with Luke for two years), the change doesn't seem quite so abrupt, but without that context, things do seem to have changed quickly.
One of Mando's quests this season is to get IG-11 (Taika Watiti) back online after sacrificing himself in the season one finale. I'm amazed there was anything left of him, considering he blew up in a pool of lava. But the attempt to restore him isn't quite a success, as the droid reverted to his assassin programming. But Din trusts the reprogrammed version of the droid to help him get to the pools to seek atonement and will seek the parts to fix IG-11 with the help of Babu Frik from The Rise of Skywalker.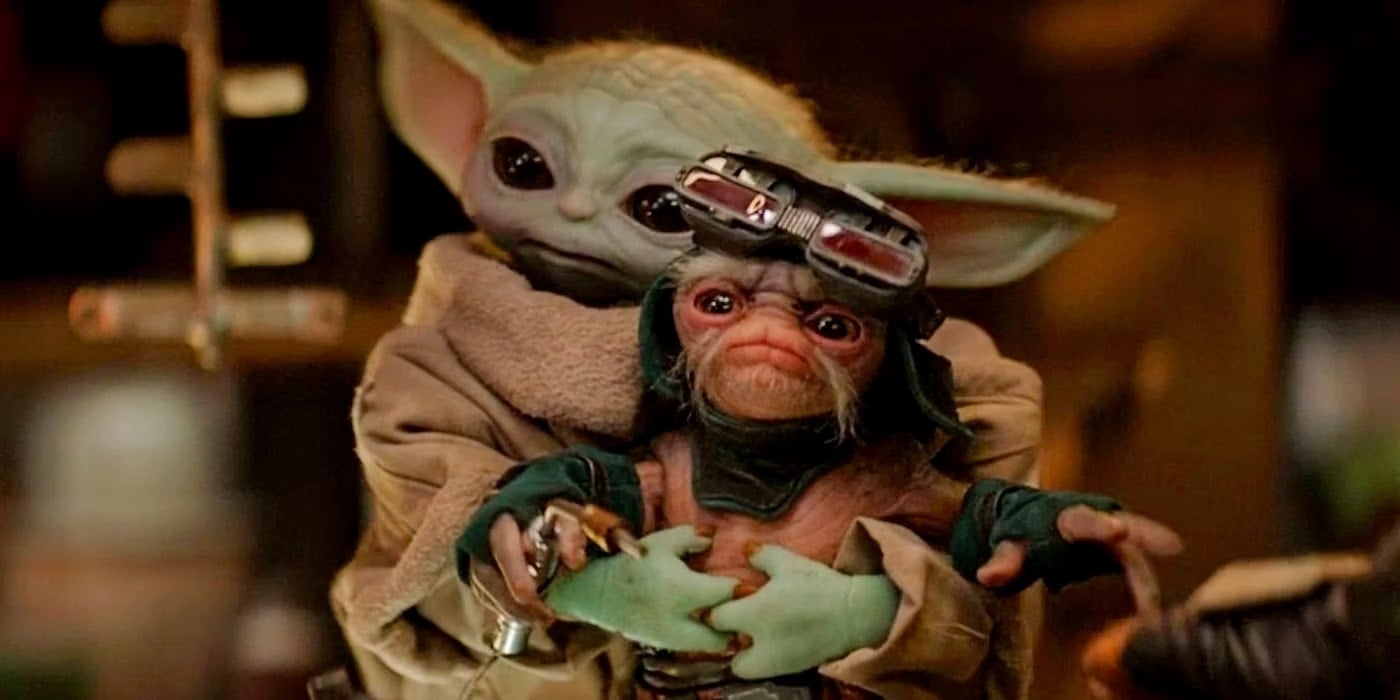 Thanks to a run-in with some pirates on the planet though, we're treated to our first proper dogfight in the series to date, as Mando in his new N1 fights the pirate crew in an asteroid field. The production value was top notch and this felt like a scene you'd get on the big screen. The use of the volume feels a bit more noticeable in this episode than before though, perhaps due to being able to spot the volume easier now that other studios have used it, but The Mandalorian continues to be making the best use of the technology to date, as it projects a near-seamless illusion.
Mando ends the episode by seeking out Bo Katan, who's brooding on a throne in isolation. Her cause fell apart when she failed to claim the Darksaber and she's clearly wallowing in that failure. She sees the mission of atonement via swimming in a pool as a whole bunch of superstitious nonsense and thinks Din's energy should be spent elsewhere. I wonder if Din will have a crisis of faith this season, where he learns maybe this isn't the way. I also think we've yet to see more of Bo, whose parting "goodbye Mando" seemed a little too cold, leaving me to wonder if she'll go after Din to attempt to claim the saber.
All in all, The Mandalorian's return was about what you'd expect. Full of fun, adventure, a setup for a larger quest and lots of cute Grogu moments. It doesn't exactly break the mold, but then again, this is already great Star Wars, so it doesn't really need to. Strap in, get comfortable and welcome an old friend back to the screen.