11) Attack of the Clones (2002)
After many years of rants, debates and criticism, pretty much everyone admits that the prequel trilogy of Star Wars is extremely weak in terms of dialogue and on-screen performances. George Lucas showed the world that he wasn't the best director for actors. When Ewan McGregor remains a fan favourite for his excellent portrayal of Obi-Wan Kenobi, the opposite is said of Hayden Christensen and his cringy attempt at the central role of Anakin Skywalker. Episode II is dead last for its terrible script, over-abundance of CGI action and the weirdly creepy exploration of Anakin and Padme's romance before his turn to the dark side in Episode III. Some of the action sequences are entertaining, namely the duel between Obi-Wan and Jango Fett on planet Kamino, but not enough to save this overall flawed movie.
10) The Phantom Menace (1999)
The Phantom Menace is not the last movie on our list because some of its action, however few there is, is now considered iconic for fans. Yes…we mean you Pod Race sequence and that lightsaber duel with Darth Maul on planet Naboo! Episode I suffers from the same problems as Episode II for its poor script, the absence of a leading character and too many new character arcs. Also, this one also suffers for its goofy attempt at senate politics and trading negotiations, which is pretty boring for the Star Wars kids that we were at the time. Never the greatest in the whole saga, but we all remain grateful that George Lucas made Episode I for bringing us one of the greatest villains in the whole Star Wars universe: Darth Maul and his two-bladed lightsaber. His combat skills juxtaposed with John Williams' "Duel of the Fates" gives us chills every time.
9) Return of the Jedi (1983)
We grew up with Return of the Jedi when the 1997 special edition arrived on VHS, but we never really were fans of it…at least not in its entirety. The first act of the movie when the lead characters are on a rescue mission at Jabba The Hutt's palace on Tatooine is weirdly printed in our head as a bizarre puppet orgy, while the second act is slow and not as exhilarating as what came before in the saga. While Return of the Jedi has its fans and a fair share of good moments, director Richard Marquand weirdly paced this movie together, mixing both dull and exciting moments. The true joy of Episode VI lies in its final 30 minutes during the climactic finale of the original trilogy in the forest of Endor, in space near the second Death Star as well as in the Emperor's throne room to make way for Darth Vader's redemption.
8) Rogue One: A Star Wars Story (2016)
As the first movie outside of the Skywalker saga, we really did enjoy Rogue One on first viewing. The action was great, offering us some of the best war-time thrills and space battles we've seen since the original trilogy, as well as awesome special effects. However, where this movie succeeds in entertainment and thrills, we discover that it lacks in story and character development. Unfortunately, Jyn Erso's (Felicity Jones) arc falls flat as she lacks background and meaningful lines, the same for the other characters who board the Rogue One, notably Diego Luna's Cassian Andor and Forrest Whitaker's Saw Gerrera. We did enjoy seeing Darth Vader again in prime condition in that hallway in the Rebel cruiser, but it remains filling for an unecessary Star Wars origin story before Episode IV. Still, Rogue One is good and easy entertainment for fans.
7) SOLO: A Star Wars Story (2018)
As the second movie outside of the Skywalker saga, SOLO: A Star Wars Story digs deeper into the origin story of the best scoundrel in the galaxy: Han Solo. Stepping in the big shoes of Harrison Ford is Alden Ehrenreich, which did a pretty good job giving the idea of a younger Han Solo. This is the only movie that does not truly feel like a Star Wars movie, but basically a science-fiction space heist. No Jedi, no Sith (or almost…wink wink), no Force and no Rebels against the Empire, this is its own story. The narrative is simple and forgettable, but what mostly works is the characters and their chemistry together. Donald Glover as young Lando Calrissian is truly great, as it is for the romantic bond between Han Solo and Qi'ra (Emilia Clarke). As it was the case for Rogue One, this movie offers great action and thrills, but delivers little shocking narrative details. This movie was also clouded by significant production setbacks, as multiple directors worked on it before Ron Howard finished the final cut on his own, poor lighting choices and technical difficulties.
6) The Rise of Skywalker (2019)
Although the latest Star Wars movie is not our favourite, we rank it right after The Last Jedi for being very entertaining and full of roller-coaster thrills, but also for a slight lack of imagination. The Rise of Skywalker closes a narrative circle that started 42 years ago in good fashion, trying to honour all its best characters, while also trying to please all Star Wars fans. However, it focused a lot of attention trying to be so different from its predecessor, the single most controversial Star Wars movie in history, than to try to tell an excellent story. This movie brings back Emperor Palpatine and makes way for a spectacular final confrontation, lightsaber fighting and space action, but remains a packed blockbuster filled with too much information. However, that being said, we still love the new movie, which is why it earns its place in the very middle.
5) The Last Jedi (2017)
The controversial one! This is the movie that divided the fanbase like never before and created the toxic debate we still have to this day over the reign of Disney on Star Wars. To be fair, we warmed to The Last Jedi since we first saw it in theatres in 2017, considering we pretty much hated it upon first and second viewing. The plot surrounding the arcs of Rey, Kylo Ren and Luke Skywalker reflect amazing and bold storytelling, while everything else surrounding the chase between the First Order and the Resistance fleet, as well as the arc of Poe, Finn and Rose is pretty weak. However, after a conclusion in Episode IX filled with fan service and less innovative revelations, we all need to take a step back and at least respect what Rian Johnson was trying to accomplish in Episode VIII. Love it or hate it, this movie feels new and different from what came before it, which makes it original and memorable over the others. Episode VIII better succeeded where Episode IX failed in some regard: creative storytelling.
4) Revenge of the Sith (2005)
Of all the entries in the saga, Revenge of the Sith is most definitely the underrated one. As the biggest and best of the prequel trilogy, Episode III is now a fan classic for its depiction of Anakin Skywalker's fall to the dark side before he became Darth Vader. The movie still slightly suffers from a few cringy line deliveries but offers the absolute best action of the whole saga (i.e Anakin and Obi-Wan's duel on Mustafar remains the most memorable of all). The drama in Episode III brings us to tears as the Order 66 climax is heartbreaking, even for us today. We especially remember Ewan McGregor's performance as Obi-Wan and Ian McDarmid's transformation into Emperor Palpatine, who has never been as good. As it was directed by George Lucas, this entry is filled with CGI, but we pardon him for giving us great storytelling and a somewhat accurate illustration of Anakin's demise. This movie deserves more recognition than it has.
3) The Force Awakens (2015)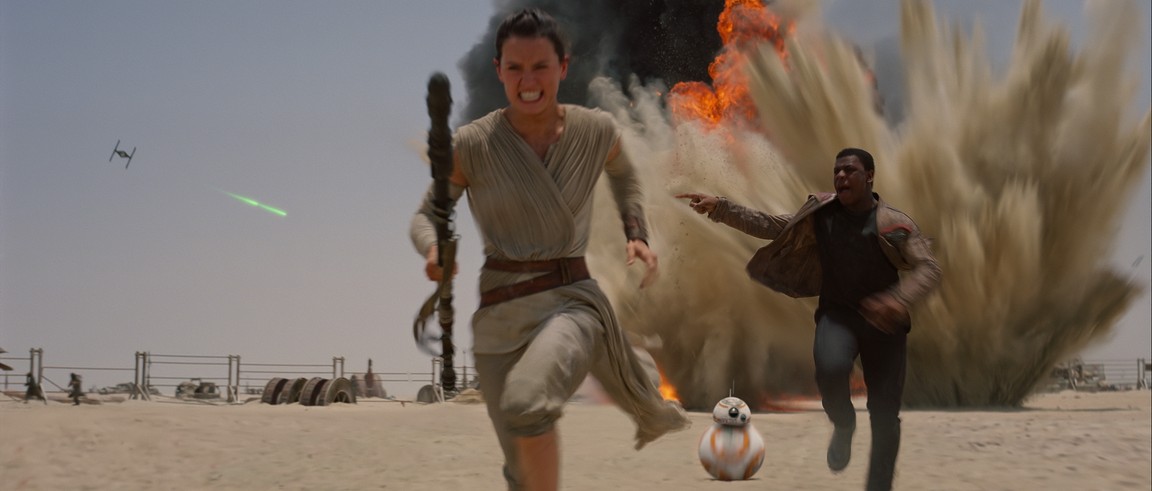 We were on a Star Wars break for ten years when The Force Awakens hit theatres, and it brought back the saga we love so dearly in spectacular fashion. Yes, it does look very similar to A New Hope for its plot details, but Episode VII was great for introducing new exciting characters (Rey, Poe, Finn and Kylo Ren) and for setting up great plot twists for the rest of the sequel trilogy. After our latest screening of The Rise of Skywalker, we confirm, without a doubt, that Episode VII is the best of the sequel trilogy. Director JJ Abrams mostly used practical effects to recreate the look and feel of the original Star Wars trilogy, and it serves the movie beautifully. Also, it is important to consider that The Force Awakens' portrayal of Luke Skywalker is the second biggest final cliffhanger of the whole saga after Darth Vader's revelation in Episode V.
2) A New Hope (1977)
The movie that started it all in 1977 can surely be viewed by many for being the purest and even the best one. What came after was even better, but the first Star Wars film is iconic and memorable for presenting some of cinema's best characters, awesome special effects at the time and the most memorable music of all time composed by Mr. John Williams. With a very minimal budget, this movie was expected to fail at the Box Office, but proved to be ahead of its time but forging a whole community of fans. This movie is slower than the others in action and excitement, but still delivers wonders on the desert sand of Tatooine, in the hallways of the Death Star and in the cockpit of Luke Skywalker's X-Wing.
1) The Empire Strikes Back (1980)
Of course, now for our grand winner. For pretty much every Star Wars fan on the planet, Episode V is a flawless space opera film, and for good reason! To this day, since 1980, this movie is unbeatable on every front. Excellent storytelling, amazing character arcs for everyone, the best soundtrack in the whole series, exhilarating action…and the biggest cliff hanger in cinematic history. The Empire Strikes Back is the ultimate Star Wars movie, and always will be. Pardon our French, but director Irvin Kerschner directed the SH**T out of this movie. After 42 years of Star Wars, this will always remain our favourite and the movie that made this saga so great and hip after so many years.