In House of the Dragon's third episode, Second of His Name, some two years have passed and King Viserys now has a son, with another child just around the corner. The show is chugging through its timeline quite quickly, opting to focus in on key events in the history of this particular dynasty, rather than the gradual increase of events we saw in Game of Thrones. It can make for a somewhat jarring viewing experience, but it's quick to plug into the timeline thanks to some expositionary dialogue.
This episode divides its attention among three major details: the King's hunt, the courtship of Princess Rhaenyra and the conflict with the Crab feeder (Craghas Drahar), which has been raging for almost three years now. King Viserys won't send any support to this conflict, for fear of how the crown would be perceived by sending aid this late in the game. Unfortunately for Daemon and Corlys, the conflict isn't going as smoothly as they would have hoped, despite having dragons on their side.
Meanwhile, while venturing out for a royal hunt, we learn that Viserys wishes to wed off his daughter to a noble house, such as the Lannisters, who boldly make a claim on the hand of the princess under the guidance of her father. She, naturally, shuts that plan down and is infuriated that every aspect of her life is being controlled, despite feeling unimportant to the larger picture now that she has a half-brother named Aegon (the episode refers to him being second of his name after Aegon the Conqueror). Despite having a male heir though, Viserys has yet to name Aegon heir, leaving Rhaenyra to feel frustrated and confused about her place in the world. If she's to be replaced, then why hasn't anyone eased her mind. If she's to stay on as heir, why isn't anyone teaching her about the politics of the realm? Otto Hightower is certainly feeling that frustration due to his son not being named heir by this point. I smell a scheme to have Viserys assassinated by Otto to try and place his son on the Iron Throne, which would be very in character for Otto and for Westerosi politics.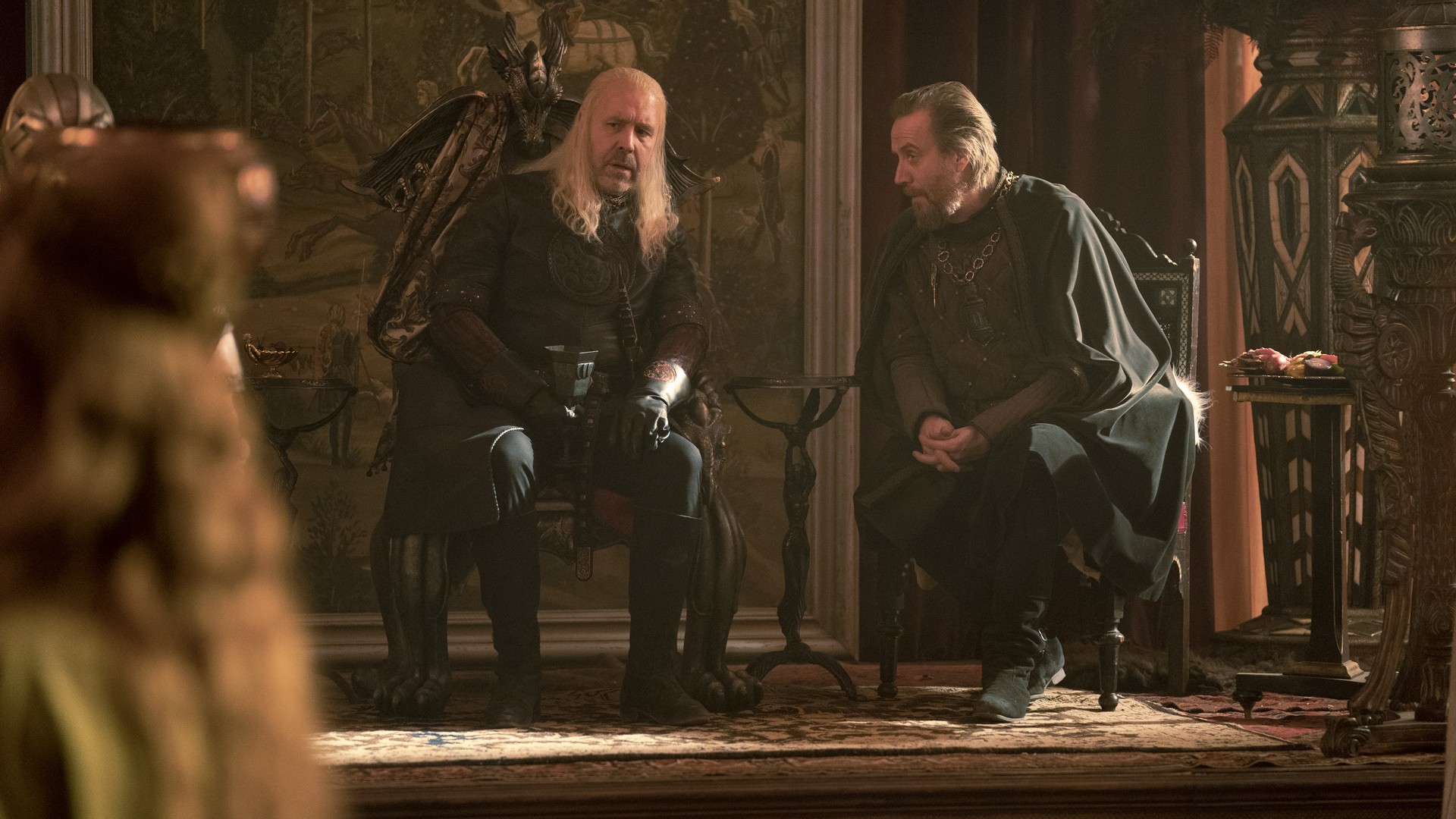 While the courtship of Rhaenrya is important not only for her own character growth but for the strained relationship between her and her father, the plot was a little repetitive of last week's episode about Viserys' own marriage. The only difference is that Rhaenrya is still not betrothed to anyone and Viserys eventually counsels her to marry someone she actually likes (perhaps the young gallant Christen Cole?). I hope that she starts taking some action of her own though. She's aware of the problems of the system and wishes to be in control but she's so far only talked about her restrictions, there's been little in terms of allowing Rhaenrya to evolve so far. She's still the sidelined princess who doesn't really understand the politicking of the court, so hopefully the show gives her some agency soon.
Meanwhile, Daemon learns that his brother is finally sending aid to help fight the Crab Feeder and Daemon just isn't having that. He's been fighting the good fight for three years now, he doesn't need his brother to swoop in at the last minute and claim the glory. So he plots a ruse and enters the Crab Feeder's camp under a false white flag, only to reveal his deception and storm the beach single-handedly. When all seems lost and Daemon is pinned down with multiple arrows in him, the Velaryons come into the fight, along with a dragon, and make short work of the Crab Feeder's army now that they're not hiding in their caves. In the end, Daemon kills the Crab Feeder and ends the conflict. I'm curious to see how Daemon will be rewarded for his actions. Will he be a hero, or will he be vilified because he didn't wait for help from King's Landing?
I do hope that come next week, the cord snaps and things really do get into motion. Everything seems to be on the edge of a knife, but the main conflict, the civil war, has yet to fully rear its head. It feels like we're left in limbo waiting and we're retreading some familiar ground as we do so. We need the story to get moving properly. That's not to say I want wall-to-wall action or anything, I think these Thrones shows work best when there's lots of development happening, but the show right now feels a bit like the wheel is spinning in place, rather than moving forward in any meaningful way.