This is a SPOILER FREE REVIEW, so feel free to read it in its entirety before seeing the film. A spoiler review will be available here and on the next episode of 'Film & Spirits' podcast.
IT'S FINALLY HERE! God, did we wait a long time for that one. After a while, I think I actually believed I was never going to see this film. It's crazy to think of it, but the cast and crew working on the 25th James Bond film wrapped production more than 2 years ago on No Time to Die. Needless to say, everybody was more than ready to eat that apple that was sitting for so long in the fridge. Many things have been said already about the film, both in our official podcast as well as reviews and opinion pieces, so I will keep this pretty brief. Yes, this is Daniel Craig's final film as Bond, wrapping a character arc that has been going for 15 years since the majestic Casino Royale came out in 2006.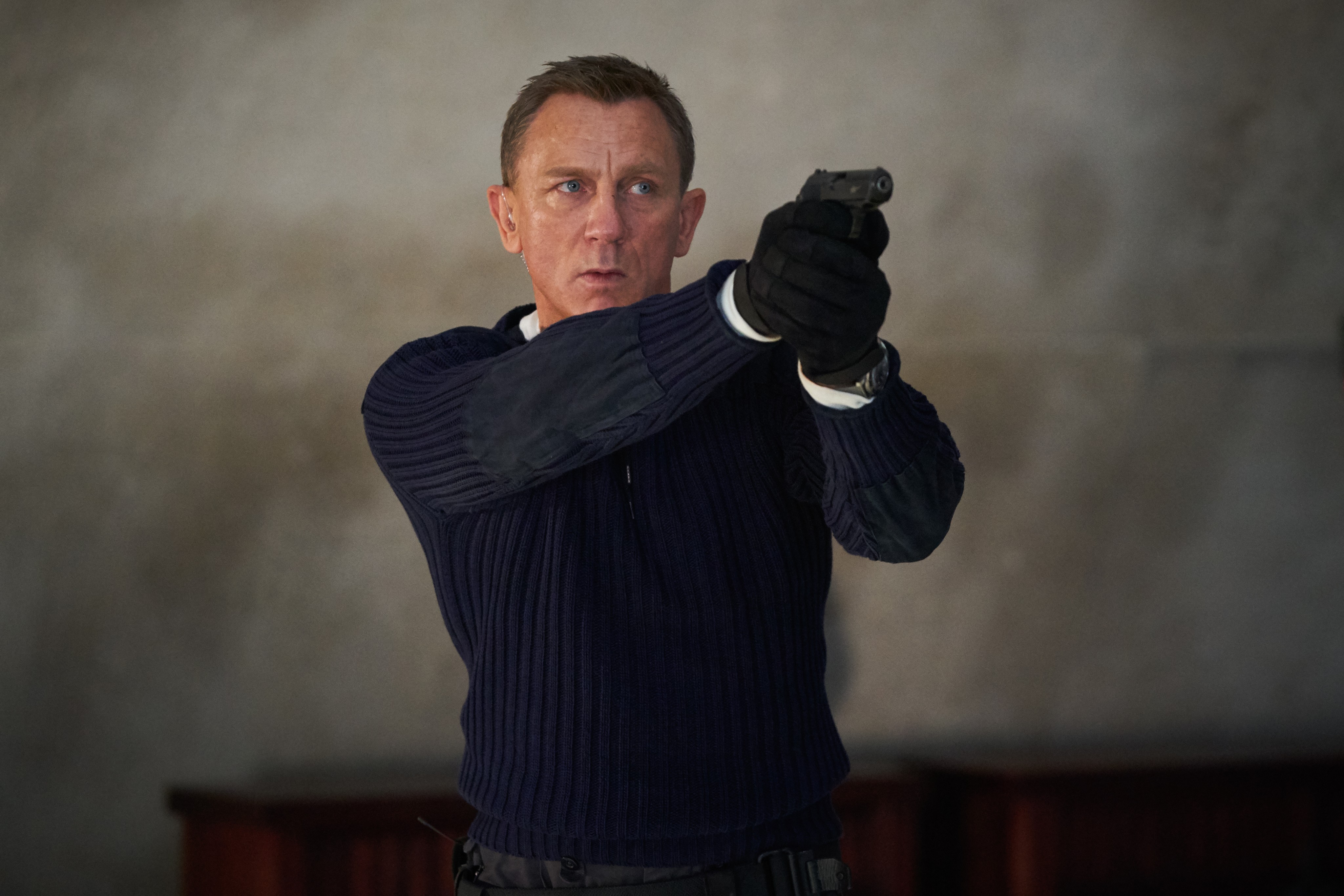 I'll start by answering the main question – was it worth the wait? Short answer, hell yeah! This is a Bond movie for the ages and one that will be remembered for challenging the aura and traditional formula behind the character of James Bond. The comparison is undeniable, prepare to witness the James Bond 007's take on The Last Jedi -the most controversial Star Wars movie of all time. This will be a highly divisive film, as they honour the romantic killer who was first written in the Ian Fleming's books in the 1950s, while also doing the complete opposite, where Bond doesn't actually sound and react like Bond would here.
Directed by Cary Joji Kukanaga (True Detective and Beasts of No Nation) and officially the last blockbuster released by MGM before the $8 billion Amazon purchase, this is the 25th Bond…James Bond film! Have an Vodka Martini, shaken not stirred, after the film if possible, the movie is over 160 minutes.
The Premise
The movie starts right after the events of the last entry, Spectre, where Bond successfully stopped Ernst Stavro Blofeld (Christoph Waltz). James Bond (Daniel Craig – his best performance in the role since Casino) and his current love interest Dr. Madeleine Swann (Léa Seydoux, much better presence here than in the last film) are enjoying a nice little romantic trip in Europe after Bond retired from MI6. A shocking ambush will force Bond to go into hiding following a spectacular car chase in the medieval town of Matera, Italy. Five years later, he is quietly enjoying his retirement in Jamaica (the birth place of James Bond, where Ian Fleming wrote all his novels at his estate, aptly named Goldeneye), leaving all his problems and stress behind. His old friend from the CIA, Felix Leiter (Jeffrey Wright), comes to visit him to ask for his help. The mission: rescue a kidnapped scientist in possession of deadly technology that needs to be put in check. This mission will lead him back to his family at MI6 (M, Moneypenny, Q and Bill Tanner), as well as to a new MI6 agent called Nomi (Lashana Lynch), having taken his place as 007. Although, his journey will also put him in a collision course with the mysterious Lyutsifer Safin (Rami Malek), who seems to hide a secret about his past and about Bond's romantic interest, Madeleine.
I had propably the biggest anticipation imaginable for this film, discussing predictions and wishes with felow Bond fans since 2019. I knew I probably I had too much expectations and that I could leave the theatre disappointed more than anything. That being said, No Time to Die did succeed to satisfy me overall. The plot, climax and the finale of this film lead Daniel Craig's Bond directly where he was written to end up, so I'm happy that newcomer director Cary Joji Fukanaga remained faithful to Craig's interpretation of 007, leading into the angle of Bond being a human being who can love, cry and feel pain. In other words, if you were on board with the other Craig movies mostly focused on his feelings and personal relationships, this will satisfy you completely (as it did me). However, if you expect just another mission, low stakes and the same Bond formula, this won't be your glass of Martini.
For 'most' of the iconic James Bond formula, this movie delivers, as promised. While there are less action scenes than previous entries, the ones present in the movie are really great. You'll most probably enjoy one of the best car chases in the whole franchise, where Bond races in the streets of Matera in the iconic Aston Martin DB5, as well as a very exciting infiltration in Santiago de Cuba alongside the absolute cracker Pamola (Ana de Armas, an incredible addition to the series). You have the suits, the style, the martinis and the strong women, and they all work well. The rest of the film takes its time to explore the ups and downs of the relationship between Bond and Madeleine Swann, and the implication of Safin as the last loose ends to eliminate. The deeper exploration of the main love story between the two is handled pretty well here, as the chemistry between Craig and Seydoux in Spectre was left to be desired.
Ok, so now a few flaws. They are few in numbers, I noticed them enough to change my perception of this film. I want to start by saying that Rami Malek is actually an outstanding actor. His work on the series Mr. Robot was haunting and he deserves more major roles in Hollywood. However, I don't think that the character of Safin was written well enough to give him his time to shine here. He is probably on screen for less than 25 minutes and the confrontation between him and Daniel Craig is, for lack of better words, 'just ok'. Not a terrible villain, but we've had better ones, with ambitions that were mapped out a little better (we're not too sure what he's after).

There are major twists around the character of Bond in this film, and I'm not too sure they were handled perfectly. The ending will be branded on your minds, but the delivery of said ending might need some improvement.

Is it me or Felix Leiter seems way too cool and less classy in this? I saw a major clash between his personality here and how we've seen him interact with Bond in Casino Royale and Quantum of Solace.
In conclusion, I can rank No Time to Die as the third best Daniel Craig movie. Skyfall and Casino Royale remain the absolute best of this 007, but the latest entry is a worthy conclusion. The movie is surprisingly funny, emotional and brings the legend that is Bond in new unexplored countries. Funny thing (or not so funny, depends how you feel about the pandemic), you'll understand early on that there were some obvious plot details that forced the producers to push back the release so many times. Let's just say that 'nanobots' are contagious, in a tech-heavy plot that flirts with Armageddon.
On a final strong note, this is definitely Daniel Craig's movie! He is giving it his all, more so here than in the previous three entries. James Bond does feel old, but old in a way the he sounds wiser and in complete control during his mission, which is awesome! Thank you good sir, you succeeded in giving us the best and complete version of Bond we could hope for.
As tradition dictates, here's a refresher of my official ranking of all the Bond movies, including No Time to die. The movie is high on the list, I'm happy to place it in my top 10. I hope you'll enjoy it as much as I did.
FINAL GRADE: 8/10
RANKING THE FILMS
The following reflect my personal opinion
TIER A – MY TOP 5
1. SkyFall (2012)
2. On Her Majesty's Secret Service (1969)
3. Thunderball (1965)
4. Casino Royale (2006)
5. The Spy Who Loved Me (1977)
TIER B – GREAT!
From Russia with Love (1963)
Dr. No (1962)
Goldfinger (1964)
The World is not Enough (1999)
For Your Eyes Only (1981)
Goldeneye (1995)
No Time to Die (2021)
TIER C – GOOD
You Only Live Twice (1967)
Tomorrow Never Dies (1997)
Live and Let Die (1973)
The Living Daylights (1987)
TIER D – AVERAGE
Spectre (2015)
Octopussy (1983)
Quantum of Solace (2008)
Moonraker (1979)

TIER F – NOT GREAT
Die Another Day (2002)
Licence to Kill (1989)
Diamonds are Forever (1971)
The Man with the Golden Gun (1974)
A View to a Kill (1985)