Ten years ago, there was a theatrical adaptation of the beloved Jack Reacher novels by Lee Child. The series features a nomadic former military police investigator traveling from town to town and always getting involved in some sort of investigation in the process. There was just one thing of note about the film: it starred Tom Cruise, and he's 5'7″. Not to say he's tiny, but he's tiny to be stepping into the shoes of Jack Reacher, who in the novels, is 6'5″ and around 250 pounds. So, needless to say, Cruise came up a bit short. But Amazon wasn't about to make that mistake when it came time to bring the character to the small screen. Not only did they find the actor to fill the frame, but they delivered an interesting and fun crime thriller in the process.
Reacher's imposing stature is part of what makes the character so mythological and unreal. The man, the myth, the legend. Enter Alan Ritchson, who may only stand 6'3″, but towers over the supporting cast like a skyscraper in the suburbs. Ritchson is perhaps best known for his work in Smallville and Titans, but surely he was made for this role. He plays Reacher as the character was written to be: hobo Sherlock Holmes. Reacher, a former Military Police officer, has deductive skills that rival his Victorian counterpart, which makes him a great asset to the local police department. Ritchson plays the first few minutes of the first episode as a silent enigma, but as you can't have an inner monologue in a show without the risk of clunky narration, this Reacher eventually opens up.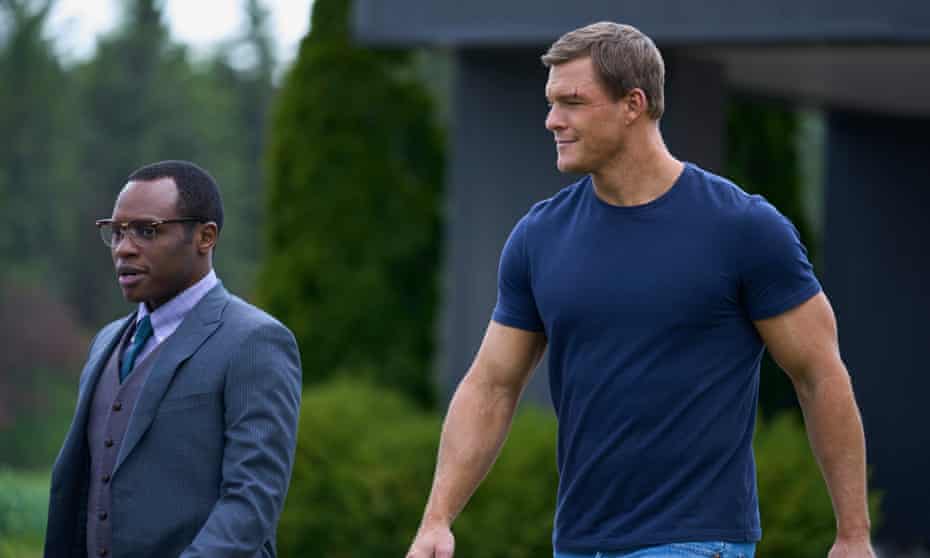 As a hobo (a term he calls himself), Reacher drifts from town to town on his military pension and finds himself disembarking from a Greyhound bus and makes his way to the tiny town of Margrave, Georgia. Come morning, he finds himself in a diner, ready to enjoy some pie and is arrested before he can even take a bite. There was a murder the previous night in this small town and it just so happens that it happened the same night this giant drifter came through town. Not believing his alibi (Reacher wants to learn about a blues musician), he's thrown in the can. But it doesn't take long for Reacher to become involved in the conspiracy and finds the motivation to help the local PD in solving the case. What follows is a series of investigations, heinous murders and a rising body count, a vast conspiracy and plenty of fisticuffs.
At first glance, and thanks to the show's trailer, Reacher may appear like a show you'd get on prime time TV. But the show is a pretty faithful adaption of the source material (The Killing Floor, the first Reacher novel by Lee Child) and the show can get pretty dark at times. But the show doesn't take itself too seriously, despite this. Characters are constantly quipping about Reacher's stature and for whatever reason, always trying to pick a fight with him. It never ends well for those guys and the show knows it.
Helping Reacher in his investigation are Captain Findlay (Malcolm Goodwin), a New England Ivy League cop who transferred to the armpit of the South, and Roscoe Conklin (Willa Fitzgerald), a young police officer who runs point with Reacher for most of the show. The trio finds themselves face to face with corruption, South American mercenaries and small-town politics. But despite being ex-military and being able to hold his own in a fight, Reacher's most interesting qualities are his investigative skills. His powers of deduction are very entertaining to watch, as he takes note of every title detail and is able to make great revelations based off of that limited information, or information others may see as trivial, irrelevant or obscure.
Reacher may not have much going on in terms of character growth, but he's not here to grow or learn in the tradition of most protagonists. The show inserts some flashbacks to Reacher's childhood on a military base to develop his relationship with his family and give him justifications for his actions, but that's far as things go in that department. But that's okay, because this is how the character is supposed to be. He's a drifter who gets caught in a bad situation, with motivation to see this investigation come to an end. He's a brilliant investigator but isn't looking for a home or for a family. I found the show did drag a bit as we inched towards the finale, but only a bit. As far as action-packed investigative shows go, you can't do wrong by checking this one out. It's not going to blow you away or anything, but it's also better than you probably think it'll be.