No major spoilers, but in order to talk about the plot of the film, I do have the explain the establishing motivations of Namor
Sorry for the delay getting this one out to you! But better late than never. As we all know, Chadwick Boseman tragically lost his life before production of Black Panther: Wakanda Forever began, which forced director and co-writer Ryan Coogler to completely overhaul his Black Panther sequel away from one about a post-Thanos world and one about the loss of family. It's a Herculean task, as one has to respect real-life events while also creating a compelling story. Credit has to be given to Coogler for delivering a solid feature considering how shaken up his vision became. It's not without its problems though and the extended runtime does hurt the film, but Wakanda Forever is certainly a brighter light in an otherwise checkered set of offerings from Marvel as of late.
The shadow of the passing of Chadwick Boseman hangs over the opening of Wakanda Forever and it's done in a very respectful but tragic fashion. As seen in the trailers, the people of Wakanda celebrate the loss of their king with song and dance, but this sentiment isn't really shared by T'Challa's sister, Shuri, played by Letitia Wright. In the original Black Panther, Shuri acted as the comic relief to an otherwise serious Marvel film, but this time around, Shuri is not only the protagonist but the emotional heart of the film. She's carrying a lot of emotions since the loss of her brother and role model and Wright owns the role of a vulnerable and lost youth, blunted by a most unexpected and heavy loss.
Equally powerful is Angela Basset as Queen Ramonda, mother to both Shuri and T'Challa. Where Shuri exhibits signs of sadness, Ramonda is anger. Not only is she dealing with the loss of her son, but she's now Queen Regent of Wakanda and has to contend with various world powers trying to obtain Vibranium for their arsenals, sometimes through force or theft. The Queen grows even angrier at the prospect of nations attempting to secure their own Vibranium arsenal and the notion of Mutually Assured Destruction through nuclear warfare isn't lost. Mother and daughter find solace together, but Shuri does find she's been restricted in Wakanda, confined to her studies (what she's studying I won't spoil, but it factors into the opening of the film).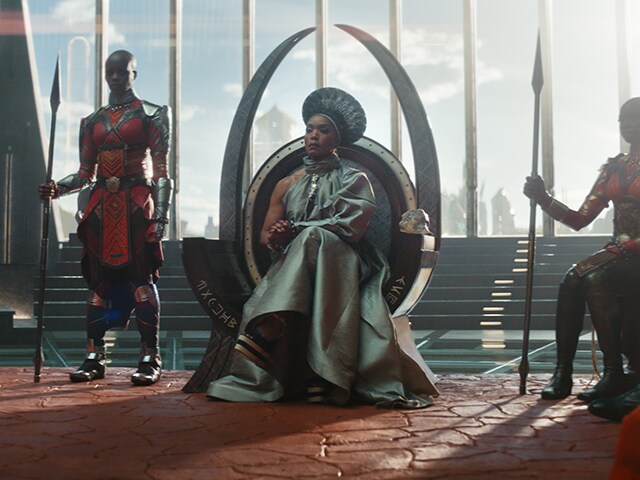 This is where Namor comes into play. Played by Tenoch Huerta, Namor is the leader of Talokan, an underwater civilization that, like Wakanda, is vastly superior in terms of technology. He bypasses Wakandan security and confronts Shuri and the Queen, revealing that the US was mining for Vibranium in the ocean near his home. The mine was destroyed, but the US could always build it again. So he asks that Wakanda (the apparent suspect in anything related to Vibranium) kidnap and deliver the scientist to Namor for execution in order to keep his kingdom of Talokan a secret from world powers.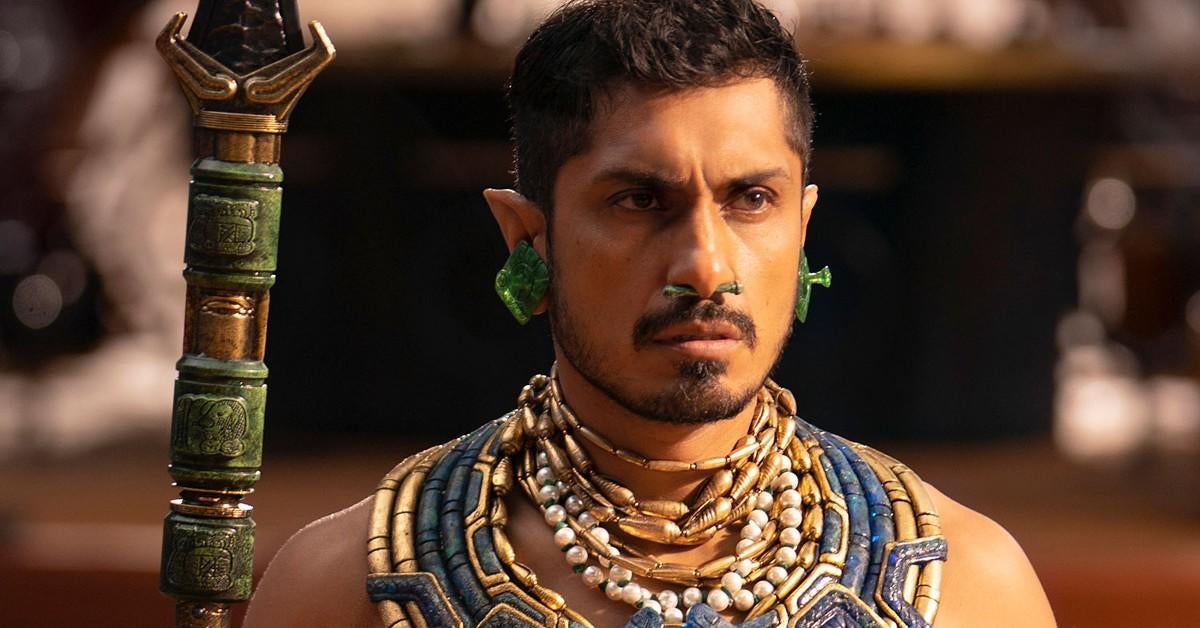 This is where things get a little messy. At first, I found Namor's proposition to be morally complex. Is the greater good of one nation worth the life of one person, all that complexity. But the film abandons this nuance around halfway through the film and very quickly flip-flops to a more generic motivation. This decision greatly undoes a lot of the goodwill and intrigue the film had established in the opening act. It is unfortunate, as Wakanda Forever was very much onto something here but it did stumble as it went on.
What the film did do well though was the tone. Wakanda Forever knows when to tell a joke and when to keep it serious. There is never a quip that compromises the drama at all, something Doctor Strange or Thor can't claim. I liked that this felt like a character drama throughout and the acting from all parties was A+. I've mentioned Basset and Wright, but other standouts were Lupita Nyong'o as Nakia, Danai Gurira as Okoye, and Winston Duke as M'Baku. The film introduces Dominque Thorn as Riri Williams, who is great in the first act, but I found the movie lost track of what to do with her as the film continued. I think a smaller role for her to set up her upcoming Ironheart show would've sufficed. Likewise, the film doesn't know what to do with Martin Freeman's Evertt Ross for most of his screen time. This movie is over two and a half hours (only one after-credit scene!), so trimming those unneeded scenes would've been a better call.
In the end, Wakanda Forever was one of the better films to come out of the MCU's fourth phase but also stumbled along the way. It was a welcome change of pace and tone for Marvel, opting for drama over spectacle and jokes, but the script felt lost at times. An extended third-act action scene also felt like run-of-the-mill Marvel, and the action scenes felt choppy and poorly edited at times. But fantastic performances from Letitia Wright and Angela Basset elevate the film to heights beyond its peers in the studio. Emotional and poignant, it's a decent sequel-just not an excellent one.