There's a whole lot of Star Wars content coming to Disney+ over the next few years. Aside from the beloved Mandalorian series, we're set to get around ten new shows or mini-series in the next couple of years. Most people are right to be excited for Obi-Wan Kenobi, starring Ewan McGregor and directed by The Mandolorian's own Deborah Chow. However, there's one series that seems to rank pretty low on the hype meter, and it should be on everyone's radar. That series is, of course, Andor.
If you're a casual fan, you may even be wondering, "wait, who is Cassian Andor again?" that would be a fair question to ask. He's the co-lead from Rogue One, played by Narcos: Mexico's Diego Luna. Rogue One was an interesting film in that it prioritized plot over character, a move that some people heralded as either bland or refreshing. I think Rogue One will age into one of the better Star Wars films, especially compared to its peers of the time, but the characters were largely blank slates, serving the larger plot of stealing the Death Star plans.
That's what makes the prospect of the Andor series so tantalizing. We can take a character like Cassian Andor, someone we know very little about, and build him up and give him those character moments. Thanks to the extended media we know a little about Cassian, but honestly, there's still a lot of room to develop him as a character.
Born into the Separatist faction during the Clone Wars, he has been fighting ever since he was a child in one war or another. Cassian Andor has worked as a spy, assassin, and more while serving the Rebellion, making him a morally ambiguous character that lends itself well to a compelling lead. In fact, the Vanity Fair article that serves as the perfect lead-in for Celebration 2022 states that Andor is actually something of a self-serving nihilist. Intriguing. We know from Rogue One that Cassian has regrets over the things he's done in war, and this show, which will be inspired by spy thrillers, can highlight the burden that doing terrible things in the name of a good cause does to someone.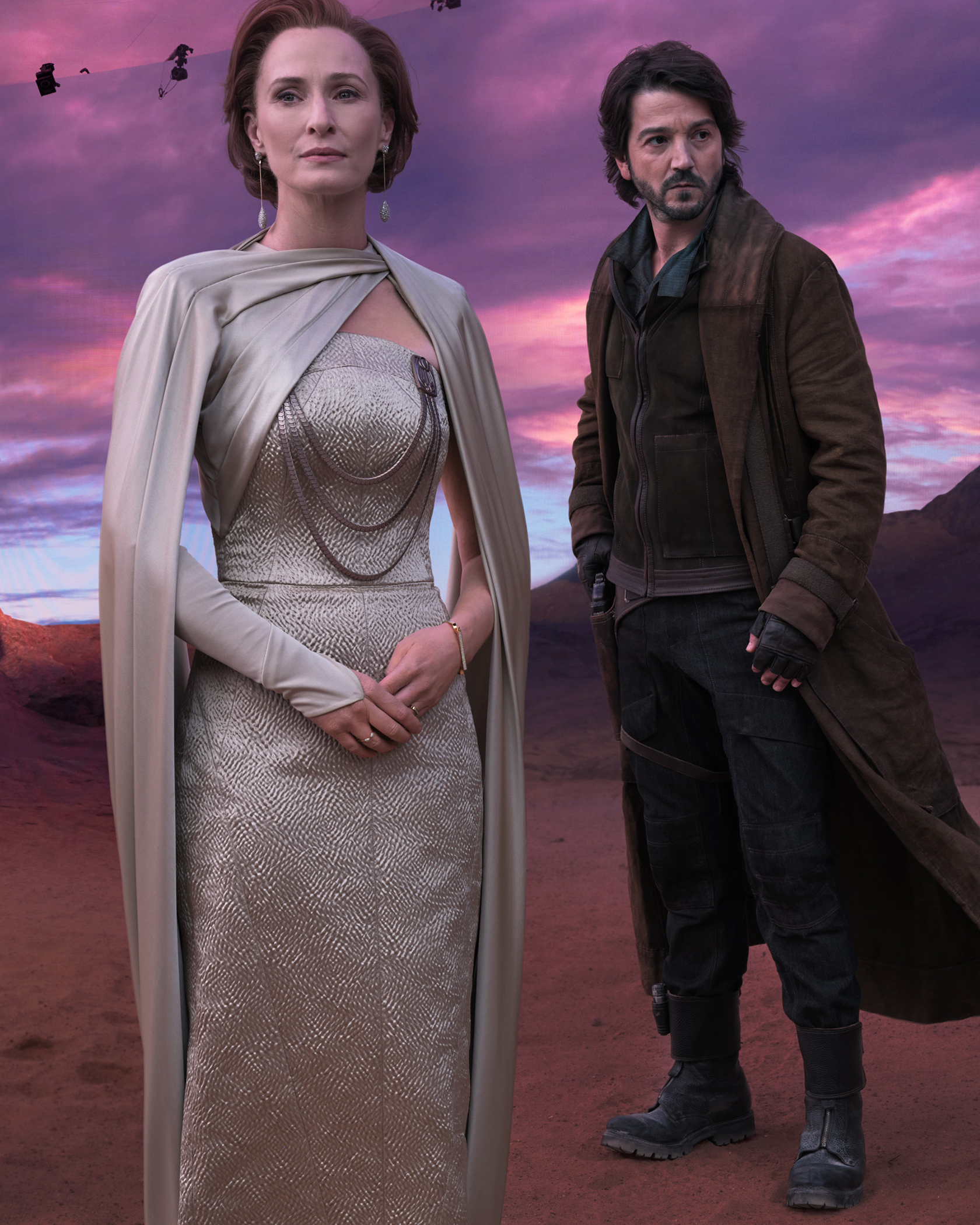 I'm particularly excited to see Diego Luna bite into the character of Cassian. He also serves as an executive producer for the show, so he wants to make sure that the way he handles Andor is done right. Luna is fresh off of his two-season stint in Narcos: Mexico, where he served as the ruthless drug lord Miguel Ángel Félix Gallardo. Luna completely owned that role and was the perfect platform to showcase his range. In Rogue One, since it was all about the plot, we didn't get that much time with him. But throughout many episodes and seasons, Luna can dive into the fall of a character who is on the "right side" of history. Cassian Andor certainly could be one of the most morally conflicted protagonists in Star Wars history and I can't wait to see him go from a nihilist to a loyal Rebel to a weary assassin with blood on his hands, willing to die for the cause.
Diego Luna, of course, isn't the only cast member for the Andor show. New additions to the Star Wars universe include the likes of Stellan Skarsgård, Adria Arjona, and Fiona Shaw while Genevieve O'Reilley, Forest Whitaker, and (eventually), Alan Tudyk will reprise their roles as Mon Mothma, Saw Gerrera and K-2SO, respectively.
Tony Gilroy, who was tasked with handling the Rogue One reshoots and is perhaps best known for writing the Bourne films, took over the show running duties from Stephen Schiff. Unfortunately, Gilroy couldn't make it to the director's chair due to COVID, and the only director confirmed at this point is Tony Haynes, who has worked on Doctor Who, Black Mirror, and Sherlock and will oversee at least three episodes of season one. So I would say this show is in good hands.
A lot of fans felt a little mixed about The Book of Boba Fett. The fandom had this mythical interpretation of Fett and the show ended up doing its own thing, which alienated a lot of fans of the comics, books, and games of yesteryear. Cassian Andor, on the other hand, does not have the baggage that comes with having a loyal fanbase with their history. He's pretty new to the canon and is a blank slate, allowing a lot of creative freedom.
The show won't just be about Cassian Andor either, as we'll naturally dive headfirst into the Dark Times and the rise of the Rebellion. We see the Rebellion as these rag-tag heroes, but as Andor is a darker character, I would expect the show to paint them less as heroes and more as desperate freedom fighters. As such, we may find it hard to root for our protagonists at times, at least that's what I would hope for. The conflict between Saw and Mon Mothma could be a very interesting part of the show, as Saw is much more extreme in his methods and would eventually splinter off with his cell. Mothma is the pure end of the spectrum, using diplomacy and morally just actions. Where will Cassian fall in this line? Likely in the middle. I would predict he'll be tugged from both ends, which will put a greater strain on him.
But what do you think? Are you interested in Andor or does the character just not appeal to you? Will you check it out anyway, skip it or are you on the fence? Did this article maybe change your mind? Whatever your thoughts, let us know!