Update: The trailer for the Disney+ show Ahsoka has officially dropped online. Given that we see Thrawn and they specifically mention Heir to the Empire, it gives even more credibility to this theory. On top of that, the announcement that Dave Filoni will be directing a new Republic film makes us wonder if we will see an official crossover between Star Wars theatrical films and the Disney+ shows.
Spoilers for Rebels season 4
Star Wars Celebration 2023 is only a few weeks away, which means we're more than likely going to be getting a slew of trailers and announcements. But there is one thing that some hardcore fans are wondering, ever since the fifth episode of The Mandalorian's second season. In that episode, Din teamed up with Ahsoka Tano in the time before the epilogue of Star Wars Rebels and we learn that she's on the hunt for one Grand Admiral Thrawn. Casual fans likely shrugged at this, but longtime fans of the books (and newcomers who've seen Rebels) definitely had their ears perk at this name. So, who is he and what could it mean for the future of Star Wars on Disney+?
On Disney+, there's a playground of stories being overseen by Jon Favreau and Dave Filoni. These stories, which include The Mandalorian, The Book of Boba Fett, Ahsoka and the upcoming Skeleton Crew, all take place in a period roughly five-plus years after Return of the Jedi. These stories are lightly connected, whether this be Ahsoka showing up in both Fett and Mando's stories, or Mando showing up in Fett's show for a few episodes. Later this year, Ahsoka will get her own show, which will potentially be building up towards something bigger as she searches the galaxy for both Thrawn and, by association, Ezra, both of whom went missing in the finale of Rebels (set right before the events of Rogue One).
If these stories are connected, one could imagine that the shows would ultimately come together in an Avengers-level event, akin to Crisis on Infinite Earth in the Arrowverse. A lot of fans, myself included, are hoping that this potential (read, very theoretical) crossover event would be a canonical retelling of perhaps the most iconic and beloved Star Wars trilogy outside of the original films. That trilogy is Timothy Zahn's Thrawn Trilogy, otherwise known as the Heir to the Empire trilogy.
After Return of the Jedi was released in 1983, audiences were clamouring for more Star Wars content. They got three novels featuring Han and Chewie leading up to the release of Jedi and a trilogy of Lando books in 1983, but nothing that pushed the overall forward. That is until 1991, when Heir to the Empire was released. Set roughly five years after Return of the Jedi (like The Mandalorian), it saw the Imperial Remant returning as a threat under the command of Grand Admiral Thrawn, an alien military leader and tactical genius who was determined to reinstate the Empire's rule through military might and strategy. The novel featured new characters, like Mara Jade, but Luke, Han and Leia were at the forefront of the story, which along with being a new narrative set after the events of the movies, made Heir to the Empire a #1 bestseller and launched the old Expanded Universe.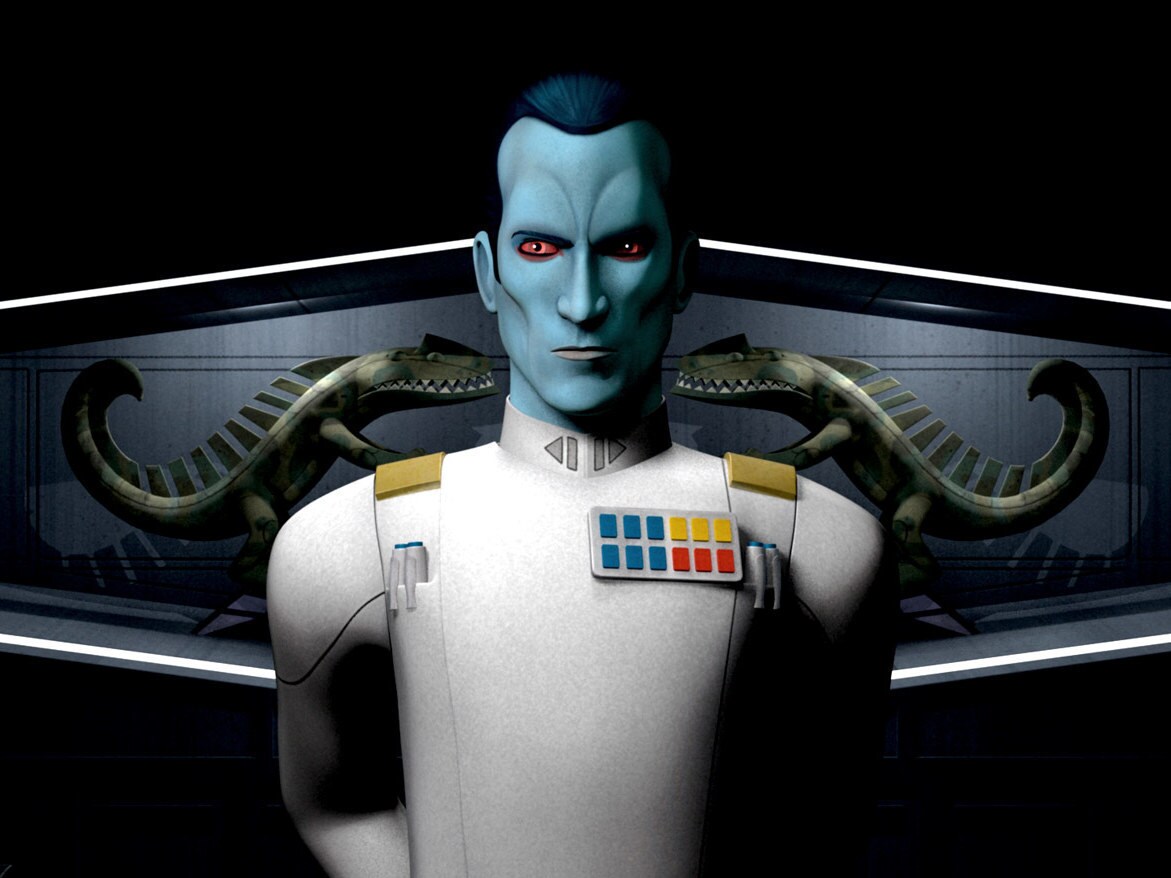 I think, by the very nature that these stories are all inter-connected in some way shape or form, and that Ahsoka very deliberately name-dropped Thrawn in season two of The Mandalorian, I wouldn't be surprised if the likes of Mando, Ahsoka, Boba Fett, Luke Skywalker (maybe) and the Skeleton Crew (and perhaps various other side characters like Fennec) all team up to take on a new threat from the Imperial Remnant under the rule of Thrawn, the master tactician. Another interesting idea is that Thrawn has employed Cad Bane, who was seemingly dead at the end of The Book of Boba Fett, but flickering lights say otherwise. Bane would then take on the role of Ruhk from the novels, seeing as he's been killed off in the canon already in Rebels.
The idea of this concept actually comes from Kathleen Kennedy herself teased such a crossover event in 2020's Investor Day, stating that at the very least, Ahsoka and the now-canceled Rangers of the New Republic would indeed crossover in the future as part of an event. Whether this is a streaming event movie, a new limited series or a theatrical film remains to be seen, but I do think these shows that Favreau and Filoni have been curating will lead to some sort of big event that will serve as a conclusion. Here's hoping Lucasfilm pulls the veil back a bit on this plan sooner than later.